I think it was 2016 when Jeremy and I first wrote the values out. And I know we've revisited them a few times now, always asking 'are these still the right ones?' And so far, the answer has been 'yes'!
I took to the streets (not really, but it sounds better that way) to hear firsthand from the rest of the team. What do you think of these core values and which is your favorite?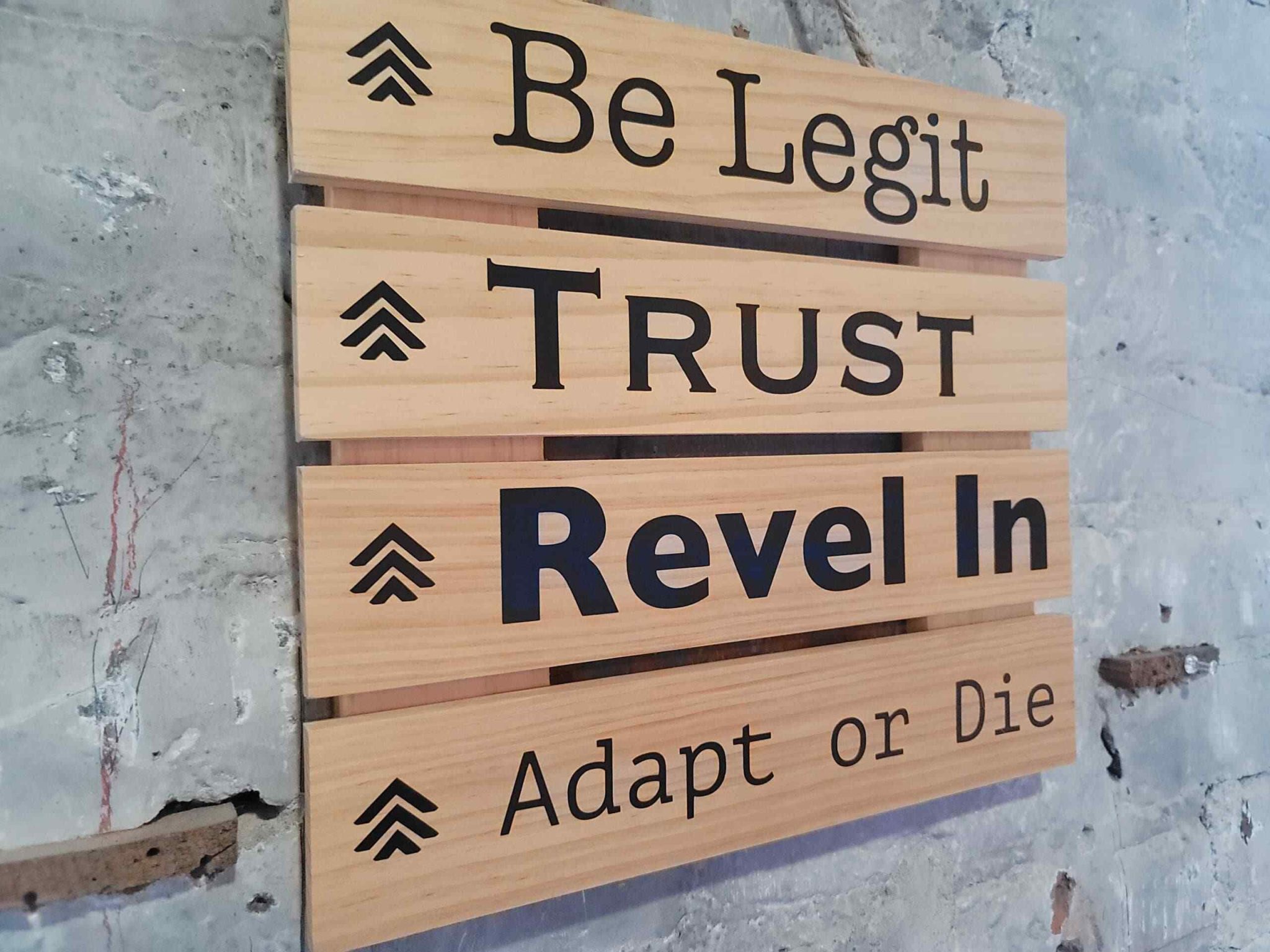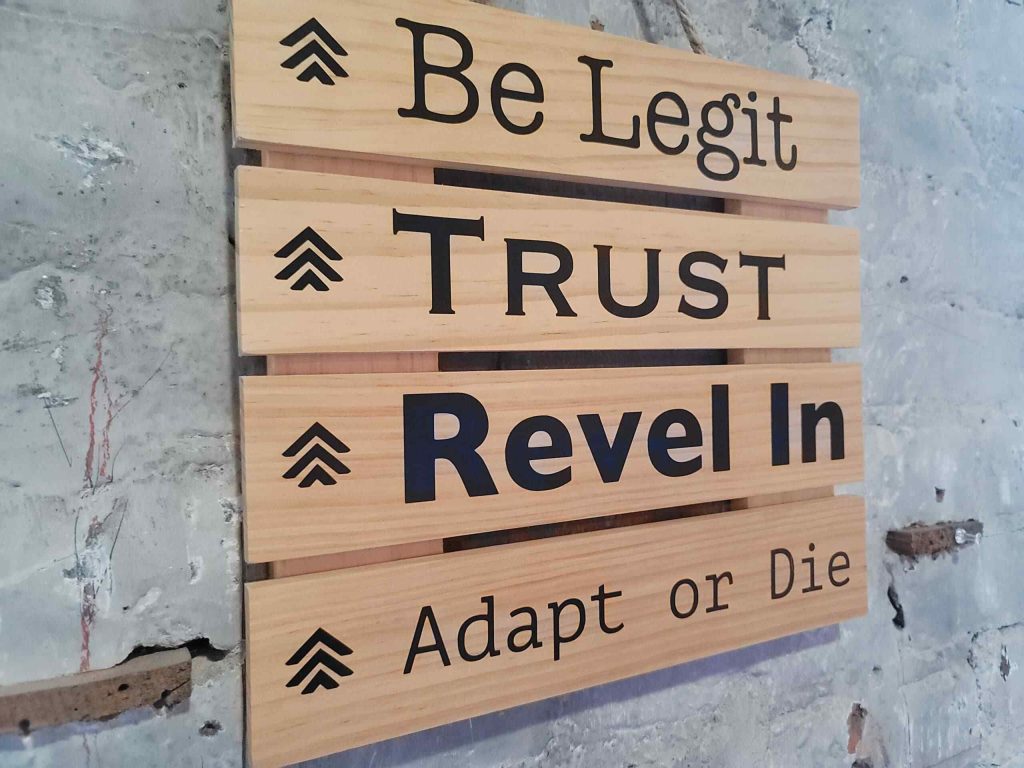 Name: Andrea
Role at The Woodshop: Marketing Ringleader
Favorite Core Value: Trust
Why is that your favorite?
"It's really difficult to choose one. I don't like this, because all of these core values run in my blood. Initially, I lean into Adapt or Die because it's the truest to the marketing/advertising environment that we work in. Of course, Revel In and Be Legit are a part of my soul and personality. But when I think about our core values, Trust is the foundation of them all.
Trust from clients to be able to adapt so we don't die. To have those conversations, manage expectations, even to work with and for us. Trust from our team to get the work done and adapt as a team so we continue to win.
Trust within yourself and our team so that you can Be Legit—be unapologetically yourself and communicate openly. This office is a safe space.
Trust to Revel In… because if there isn't trust, we can't win and wouldn't have anything to celebrate about.
So IF I HAD to choose ONE – it would be Trust.
---
Name: Kayla
Role at The Woodshop: AR/AP/Numbers and stuff
Favorite Core Value: Trust
Why: It's so difficult for me to choose a favorite value because they are all so relatable. It would be really easy for me to choose Be Legit because I'm such an open book and that comes so naturally to me.
I have to go with Trust because of something that Tony said during my interview. He said that he feels like he gives trust too soon and too easily. I've joked that it has really worked out for him, but it really has. Giving me the trust to take responsibility and get the job done pushes me not only because I own whatever he gives me but also because I never want to let him or any of my teammates down. I've never had that anywhere else.
---
Name: Erin
Role at The Woodshop: Designer / Illustrator
Favorite Core Value: Be Legit
Why: I believe Be Legit is the most important CV. I think that when people come in with a facade on, even if they are the best at what they do, they can be very hard to work with.
It also shows confidence and a level of self-respect, something that is very important to have in a professional field. I believe that if you feel like you can enter a room and be unapologetically yourself, you are much more likely to perform at your highest potential.
As for me, I've had experiences in the past where I felt the need to hide parts of myself at work and it definitely made my environment hard to work in—I wasn't able to perform at my highest potential. I could revel in my work, trust my coworkers to get the job done right, I adapted all the time as trends changed, but I couldn't authentically and unapologetically be me.
---
Name: Evan
Role at The Woodshop: Integrator
Favorite Core Value: Adapt or Die
Why: Well, I would say Trust, because anything without trust is doomed to fail, but since two of us have already said that, I'm going to argue for my second favorite: adapt or die.
I think it's a powerful idea that touches every aspect of my job as someone who's constantly looking into the future. "Is this the best way to do this, now and moving forward? Am I considering how this will need to be adaptable to the ever-changing context of our industry, clients' industries, company, and technology, among other things?"
Without adaptation, we don't even keep pace—we fall behind. As results-driven problem solvers, we absolutely must consider new strategies, new ideas, and new ways of getting things done, or else we absolutely will be surpassed and left in the dust. It's also my (almost) favorite core value because it's challenged me to re-think some of my closely held paradigms. Do I really know best—have I figured this thing out, really—or should I listen to someone else's point of view? Should I be open to new ideas? Is it wise to create a rigid structure, or do we need to be able to flex and weave around future unforeseeable obstacles? A balance is required.
---
Name: Genevieve
Role at The Woodshop: Designer / Art Director
Favorite Core Value: Revel In
Why: Every one of our core values has had an impact on me at one time or another, so choosing one is like choosing a favorite kid/pet. Though we all know we secretly have a favorite, so if I HAD to choose, Revel In.
I love everything that Revel In stands for because not only can it be applied to work life, but home life as well. Revel In to me means to live life in the moment, enjoy the journey, and be grateful for the opportunities that are given to you.
I love the creative process of getting to know our clients and their businesses. I love creating something for them that will help achieve their goals. I love seeing their excitement as they realize that what they have been working so hard for, is finally coming to life. I love that we get to celebrate with them as they reach their goals. It can be grueling at times and it's in those moments that I remember to Revel In the process because it pushes me to think more creatively.
---
Name: Laura
Role at The Woodshop: Jr. Strategist
Favorite Core Value: Adapt or Die
Why: All of these core values are essential but I love adapt or die the most. Adapt or die is especially pertinent in the marketing industry. Marketing and advertising are both ever-changing.
Anyone who is hoping to succeed in marketing will have to change with it. There is always something new to learn. Sharpening the saw and staying in tune with the market should be a top priority for every agency and person. Adapt or die is why I keep a dictionary by my bedside to learn new words even though I learned English long ago.
The drive to continually learn will light the fire to continually grow and be better than the day before. I have a favorite saying about learning: "An investment in knowledge pays the best interest." -Benjamin Franklin
If you commit to learning, your fire will never die, and The Woodshop embodies this core value along with all the others.
---
Name: Mykel
Role at The Woodshop: Content & Email Ninja
Favorite Core Value: Adapt or Die
Why: I had such a hard time picking my favorite core value because along with everyone on the team, I've felt every value resonate with me at some point or another working at TWS!
When I first started here, it was right at the beginning of covid in 2020 😅. I think I spent a total of 2 weeks physically in-office before everyone got sent home to work. Being new on the team and being brought on at such a crazy time, I really had to dig in and adapt or die to a new job, new team, new way of working, new shifts in the marketing industry…ALL of it.
For some people, that would have been way too much to handle, but I jumped head first into the work and have loved every single moment since. Here I am, 2 years later (and still only about 6 months physically in-office) kicking butt with an awesome team that can take the punches and roll with them, and sometimes throw a punch back, too.
The whole marketing industry has shifted so much and change is the only constant you can count on. Whether it's trends, new social platforms, or a global pandemic, you have to be able to adapt or die when it comes to anything you do—and TWS can hang!
TRUST
BE LEGIT
ADAPT OR DIE
REVEL IN
I mean, yeah, I like them all. Of course I do; I helped write them. But 6 years later, it is pretty cool to see the effect they've had and continue to have on all of us.
– Tony