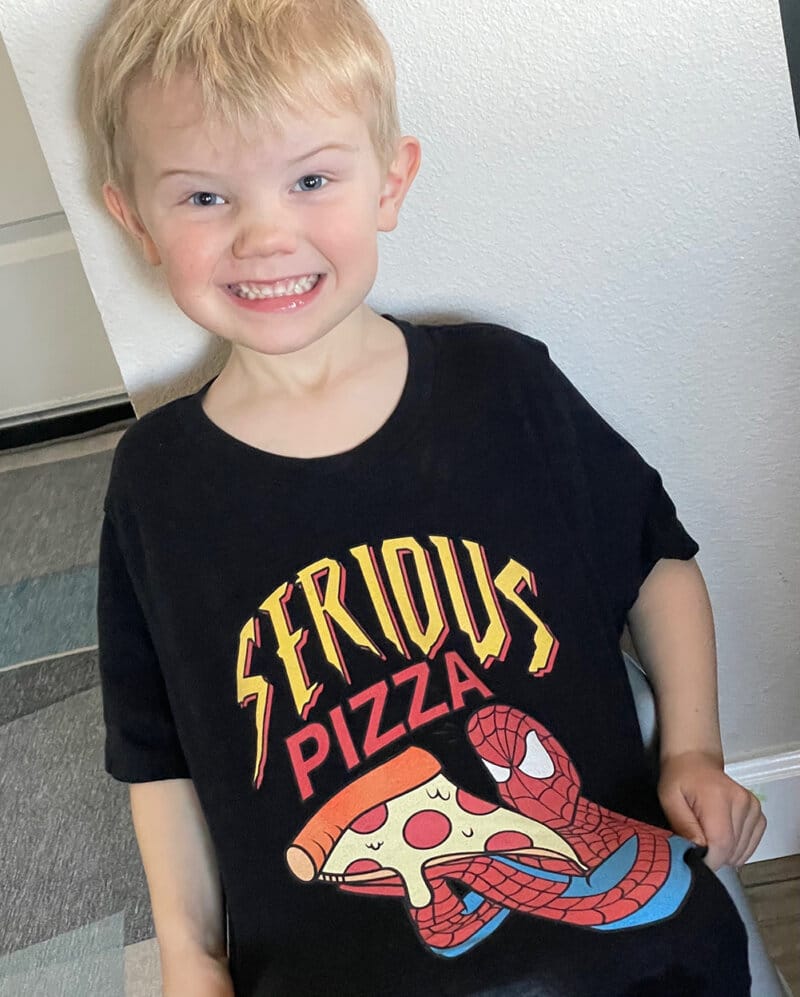 Licensing issues aside, I love this t-shirt. Partly because I love anything pizza. But also because of the reaction I got when I gave it to my four-year-old. "Check it out buddy, it's Spider-Man eating pizza." "That's silly, he's got no mouth!," he said. 
What a hellish nightmare. You're holding a dripping pile of deliciousness but you've got no mouth.
Anyways… Serious Pizza was indeed seriously awesome! Located in Deep Ellum, Texas, Serious Pizza is right in the heart of the city's entertainment district. A tapas of nightlife on two strips of jam-packed roads east of Dallas.
Rooftop restaurants, live music venues, public art and murals everywhere you look, ice cream shops, an arcade, and yes, some serious pizza.
Serious is a walk-in, order at the counter type of place. It's an open kitchen, and even on a Thursday night, there were lots of people running around, throwing dough and slinging pies.
The oven is massive and just as impressive is the hood. Now, I worked at a pizza joint for 5 years so I can't help but notice these things and strongly admire them… I know, #nerd. Did I also happen to mention it was covered in stickers ? Yeah, it was that kind of place.
We arrived, of course, with a pocket full of TWS Pizza stickers. We made our humble offering to these local pizza gods and our gift was accepted with open arms. We cheered them on as they carefully selected a perfect spot to add our sticker to their collection. Rad dudes.
As for the pizza, you can get a whole pie or slices. But either way, you better be ready. The single slices come off their 'seriously large' 30" round.
We had three in tow, so we opted to skip the slices and go for the whole. We got the small though (aka, a large – coming in at 18" across). The 'BBQ Chick' seemed appropriate with Texas BBQ sauce, chicken, red onion, and sharp cheddar. All the classic toppings. The touch of bacon and cilantro on top really set this one apart. We crushed this pizza leaving just a few bones on the pan.
Big ole' slices on a foldable crust. I hear it's called New York style, but I dunno… they do it right down south in Texas. And I guess it's true what they say… everything is BIGGER in Texas. Including the pizza.
So next time you're in Dallas, scoot on over to Deep Ellum and grab a slice at Serious Pizza. First one to spot our sticker on the hood and send me a picture, I'll send you some swag.
Don't forget to check out their website and Instagram feed. If our pizza reviews inspire you to try a slice for yourself, don't forget to tag us in your story or post too! Use #BetweenCoffeeAndPizza and #SliceNSip (trust us, these pizzas are worth documenting).
CHEERS!