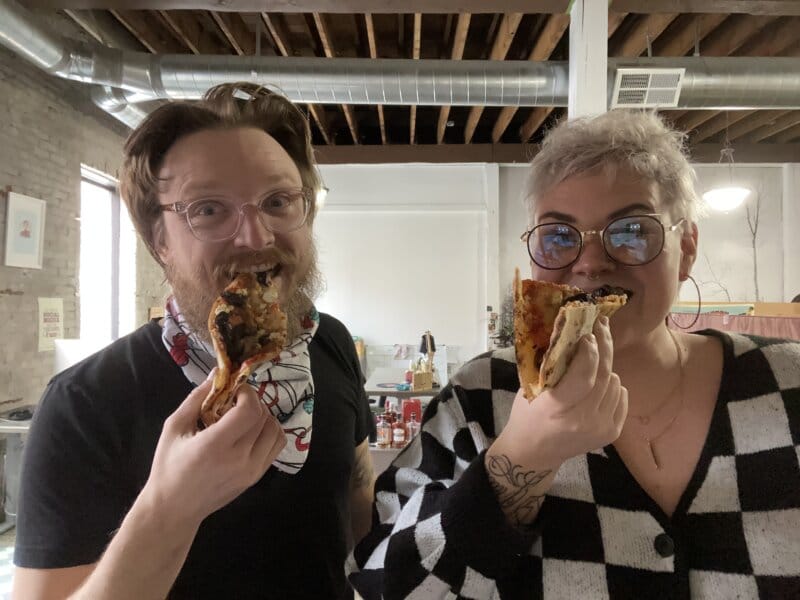 It's a Friday and just Tony and I are in the office as the team is working remotely. I holler across the hall… got lunch plans, Baird? He responds with a no and before you know it, we've got an order in at Versalia.
If you're looking for thin crust pizza in Spokane, Versalia is the ticket. Dough that's hand-pulled, tossed, and floured with love then slid into a wood-fired oven. The open flame creates small little bubbles on the edge of the crust that give it enough support as you perfectly fold a slice in half and deliver the goods right into your watering mouth. It's legit.
We landed on the Spicy Portobello today. Sautéed portobello mushrooms, caramelized onions, and chèvre cheese on a crushed red pepper infused savory red sauce with a three cheese blend of Romano, Parmesan, and the OG 'zza queen, Mozzarella. This pizza was delicious. There was a smoothness to the bite with the softness of the mushrooms, onions, and chèvre and then that smoothness was quickly met with the right kind of heat. The kind that sits on the side of your tongue adding flavor but not making you sweat. This was definitely the right kind of pizza for a cold January day in Spokane and we reveled in it.
It was great to find ourselves standing in the office talking quickly about all of the fun things coming in 2022 and looking back on fantastic highlights of 2021. People ask why we have a coffee and pizza blog and of course it's because we love coffee and pizza, but it's because work, ideas, creative brainstorms, and celebrations all happen with either a cup or slice in hand. Thanks for joining us last year, we hope you got the opportunity to try some of the places we stopped by. We cannot wait for the adventures to come this year… our taste buds and creativity are eagerly awaiting the fun.
Cheers! – AW