Setting the scene. It's about 70 degrees out with a cerulean sky, sun shining, and a few airy cotton ball clouds. There are seagulls flying down by the pier as you sit outside on a rooftop patio at Fort George Brewery in Astoria, Oregon overlooking the Columbia River. The air is slightly salty as drafts from the Pacific Ocean swoop in with the seagulls and clouds. It's a perfect coastal day. The only thing that could make it better? Pizza… and beer of course! 😉
Fort George Brewery isn't the only shining star in Astoria (more on that later) but it's always on my MUST STOP list when coming through town. Residing in the Fort George Building, constructed in 1921, it's hard to miss. It's half a block of damn near floor-to-ceiling windows! There is a restaurant below and a "pizza only" upstairs pub with endless views of the water whether you're sitting inside or out. They also share the building with a bakery (DOUBLE WIN) and it's nestled up against the OG Fort Astoria! Because history is always better with pizza.
With the gorgeous weather that day, it felt like we won the lottery scoring a table on the upstairs patio. I squealed with joy and couldn't wait to do one of my most favorite things: sharing a meal with friends!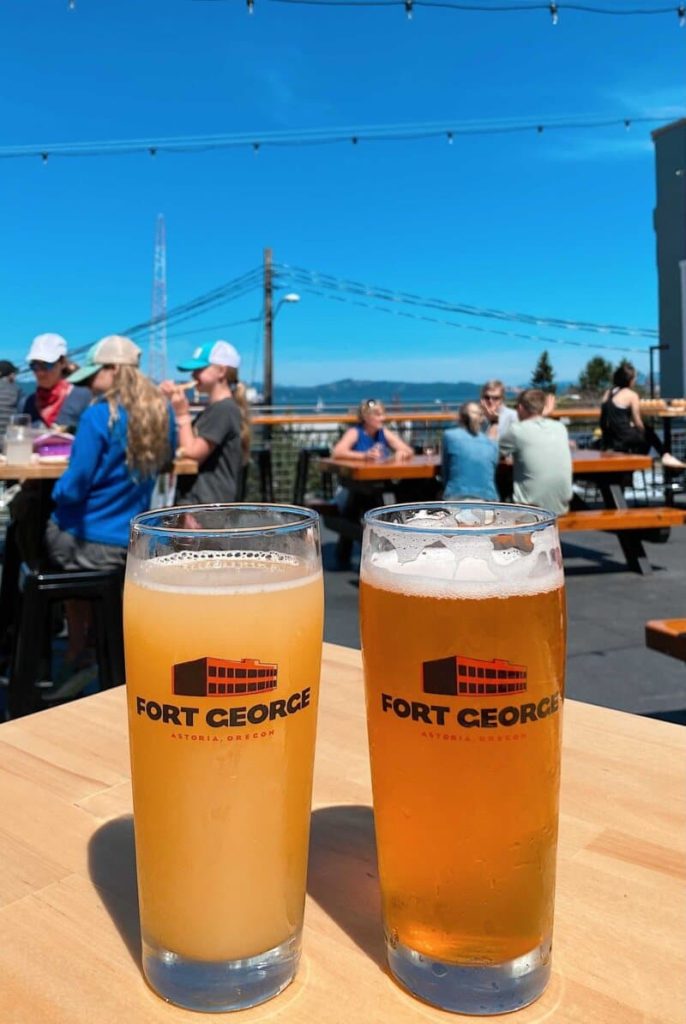 Side tangent… before I dive into the pizza specifics, I know how spicy the conversation can get about PINEAPPLE on PIZZA. You're either a heck yes or a hell no, and I'm a heck yes! Yep, you read that right. I mean I have a pineapple tattooed on my leg, which doesn't have anything to do with pizza, but come on… a Hawaiian pizza is radically delicious, bro. 
I feel like another heated 'Pizza topping debate is "greens" on pizza. Specifically, Arugula. I LOVE a good pizza salad! I like the fresh peppery crunch it adds on top of a warm cheese and crust combination; it's a beautiful juxtaposition. But I know right now, if you and I were sitting together looking at the menu, that conversation would come up. So, where do you stand? Pineapple? Arugula? LET US KNOW!
My friend Makayla and I, without conversation or hesitation, decided on the "Forest" wood-fired pizza. Let. Me. Make. Your. Mouth. Water. If you're into Arugula. 😂
Fire-roasted wild mushrooms, provolone, parmesan, mozzarella, and organic arugula all nestled on top of a white sauce that is lovingly supported by their house made dough made with flour from Small's Family Farm outside of Walla Walla, WA. But we know it takes two to tango when it comes to wood-fired pizza. Two, as in the dough and the oven. So you've got this cold fermented pizza dough tossed into their "Mt Tacoma" Woodstone Oven that's fueled with Oregon Oak and Washington Applewood and then BOOM… a tasty little pizza is born.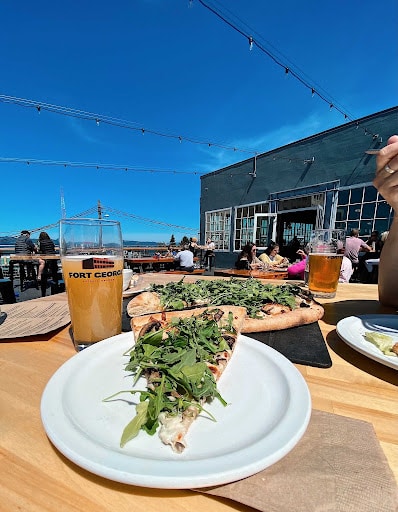 Lightly charred crust with enough crunch to support a fold (which… in regards to the fold: if you know, you know), and the perfect amount of toppings. OH MY STARS… it was hard not to keep eating slice after slice. But we had to save room for the beer too. And on that note, let's take a quick beer detour. City of Dreams; what a fitting name and beer for the occasion! A juicy, hoppy beer with the punch of a hazy IPA but the ABV of a pale ale. It was great on its own and great with the pizza. All in all, a personal favorite and treat for your tastebuds.
While you may not be able to get this pizza in Spokane, it's only a 7 hour drive. Or you can head up to Huckleberry's and pick up a six pack of their brews. They normally have a rotating selection of Fort George!
I would recommend you find the time to venture down to Astoria though! There are stunning panoramic views, plenty of Goonies gems, and Imogen, my favorite local art gallery. Plus on top of Fort George, there are also a handful of other great breweries (Buoy, Rogue, Astoria Brewing Co.), Pilot House Distilling, and tasty eats sprinkled throughout town. If you can stay for a movie, make sure to check the Columbian Theater where if you're lucky enough to snag a seat in the balcony (21+), you can order pizza and eat it on your own sofa vs. sitting in theater chairs below.
I think it's safe to say that Astoria may steal a piece of your heart, as it has mine.
If you're wanting to check out the Fort George refreshing drinks you can find their beers here and you can follow their Instagram page here for the latest updates.
CHEERS! – AW