I remember the first time I wandered into a local, artisan coffee shop.
I thought I was coming in just for a coffee.. but man oh man, I was in for so much more!
"Morning!
Morning, what can I get for you?
Can I get a cup of coffee?
What kind?
Drip…black.
We don't do drip.
Uhh… ok. What do you do?
French press, pour over, aero press…
Uhh… which one is most like drip?"
As the pretension increased, my thirst was decreasing, but hey, we're here! So let's see where this train takes us.
After the roundabout, I think I settled for an AeroPress even though I had no clue what that meant at the time.
Now the coffee was good, but what I really got a taste for was what I actually cared about in a coffee shop.
It isn't the sourcing, or the notes; it's the atmosphere and the friendliness.
I want a coffee shop that's more into me than they are the coffee.
Woah—that's a bit self-serving, but I'm guessing that you'd feel the same way, even if you don't want to admit it.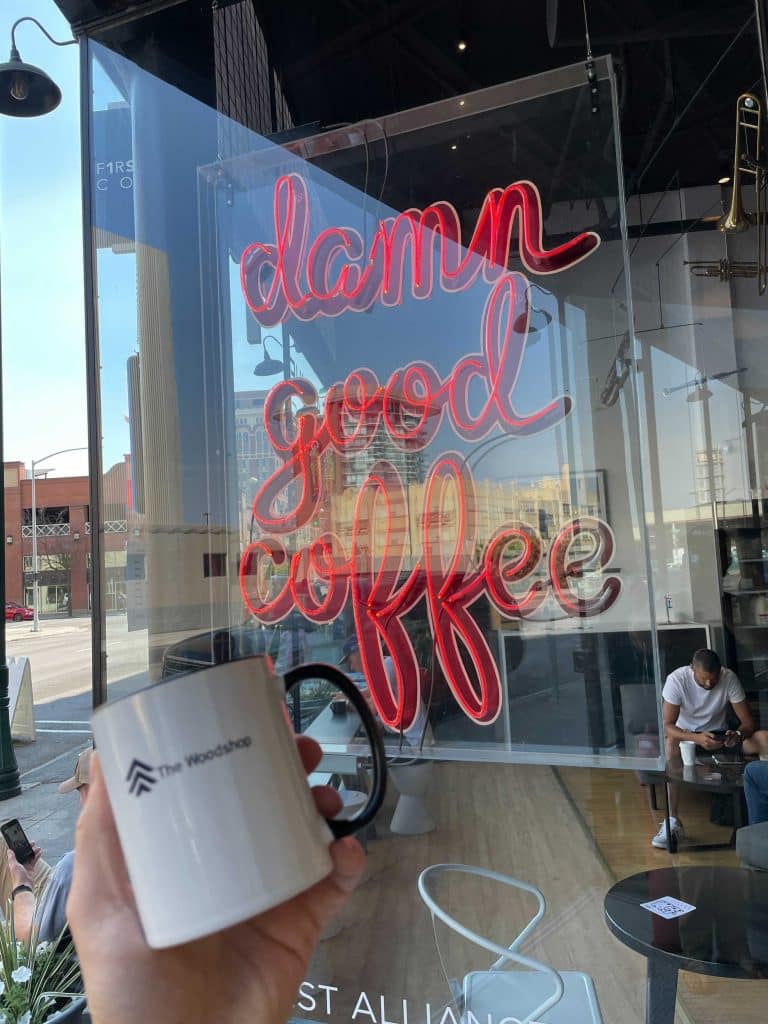 Enter 1st Ave Coffee Shop. 
For all of the last Slice n' Sip Blogs, I've written about a spot based on one visit. And in all 3 previous cases, it was based on my first visit.
Switching over to coffee today, I thought why only review a place I've tried once when I literally stop into 1st Ave 4-8 times a week!
Sometimes I even meander down on weekends… and yes, sometimes I find myself in there twice a day.
It's hard to say what 1st Ave was like the first time I popped in. My poor memory would never allow for that story.
But I can say that my 'regular coffee shop' is pretty great.
I'm a drip guy. Black too.
And 1st Ave nails it here. Typically there's two varieties ready to go, and 5 others ready for pour over mode (see, I know about that now).
I'm not big on sourcing or why one country's coffee tastes different… but you know who is? Their baristas! And they are friendly as hell.
Just stop in for a great cup or start asking questions and get your own mini Ted Talk on beans.
But don't stop with just the coffee.
They've got donuts, coffee cake, sweet or savory pastries, with options for gluten free and all that good stuff.
And it's all made either in-house or brought in from another local bakery.
After ordering, be sure to wander around and take in the art.
1st Ave features a different artist each month, and they load up the walls with work.
Drawings, paintings, photography, it's all fair game.
I'm not sure how they select artists, but hey, if you know one, stop by and ask.
Check them out on insta at ___ or better yet, drop in for a cup.
First person to pop in and mention our blog – your coffee is on me!
tb
CHEERS!