This is the episode where we learned a valuable lesson, always listen to your Lyft Driver when it comes to pizza spots. 
Tony, Jeremy, and I spent the week in sunny San Diego with our friends at Zerorez, and of course, there was going to be some pie time! 
On the first day of the conference, there was a golf tournament, some would say on a very challenging golf course, which resulted in a long afternoon in the sun and a bus full of people on the verge of hangry. I am texting Tony as they are driving back (it was 45 minutes from where we were staying) looking for an ETA and who was joining us for dinner so I can find a spot and make a reservation. I am a resy queen. 
I was excited to hear that Chad and Jake were going to join us and that Tony found a spot that was 10 minutes away from the hotel. Speed was critical in getting our golfers fed! Tony calls me "let's go to ZoZo's it's so close." I am game and call Lyft. Lyft drivers are some of my favorite tour guides! Michael picked us up and he was great, I literally had my notes app open on my phone writing down all of the places and just chatting about what he enjoyed doing in San Diego. 
After we chatted for a few minutes, Michael goes are you sure y'all want to eat at ZoZos?! We are hesitant to answer but say yeah it's close and we are so hungry. He responds with "but there are these other great spots just like 5 more minutes away." We were like "okay cool thanks, we'll check them out later." We were SO HUNGRY. So he drops us off at ZoZo's on the Mission Beach Boardwalk and it's a GHOST TOWN. The five of us shuffle into ZoZo's and see a bunch of cold slices that were waiting to be reheated, yet no one was behind the counter. So we quickly looked at each other, turned around, and walked out. HAHAHAHA. I burst into laughter and was like welp, I guess we should have listened to Michael. So we investigated another Italian restaurant around the corner and they were like "oh we have a plumber coming…" STRIKE TWO. At this point, the hangry is really kicking in. What do we do?! 
I opened Lyft and GUESS WHO WAS 3 MINUTES AWAY?! MICHAEL! Tony ran into a Mexican joint and ordered two cheese quesadillas for the five of us to split on the drive to… yep you guessed it… the pizza place he recommended. 
We had a great chuckle about the whole ordeal and thanked Michael for his help and he dropped us off at Pizzeria Luigi in Golden Hill! 
We walk into a glass case stacked full of new york pies, stickers all over the soda machine, and a big open table with our name on it. We were stoked. This was what we were looking for! 
Between the five of us, we managed to crush at least one of almost every slice. Mona Lisa, Capone, Leonardo, Crimescene, BBQ Chicken, Buffalo Chicken, White Girl, Sports Bar, and Donatello! 
The Highlights… 
The Sports Bar had potato, bacon, cheddar, sour cream, and green onion with no sauce – it was my jam!  

The Leonardo was mozzarella with parmesan and pesto – chef's kiss. 

They were perfect, foldable New York slices and they even had garlic knots! 
We were happy little campers after a table stacked full of slices. We even got to leave a little TWS at Pizza Luigi by adding our pizza sticker to their soda machine. Full belly, full heart, and a great story! Check out Pizza Luigi on Instagram here.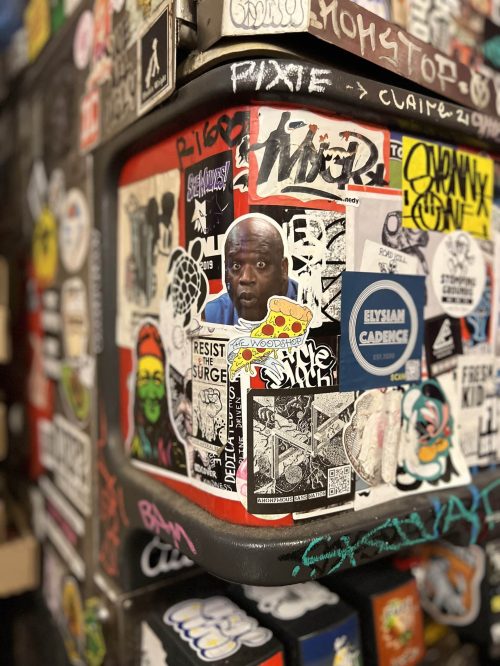 One last bite… Tony and I started the week with pizza in Little Italy! Filippi's Pizza Grotto serving San Diego since 1950! This was without a doubt the most traditional classic pizza joint Baird and I had been to. They had white and red checkered table covers, with wine bottles hanging from the ceiling; you even walked into the spot through an Italian Market. Our foodie hearts were giddy! We shared The Works, also known as Pappa's Favorite. Cheese, Sausage, Pepperoni, Mushrooms, Onions, and Anchovies! It was doughy, cheesy, and tasted like we were eating a pizza your Italian grandmother had made. The photo with the cheese pull says it all. San Diego thank you for the great pizza and of course the sunshine – two of our favorite things.