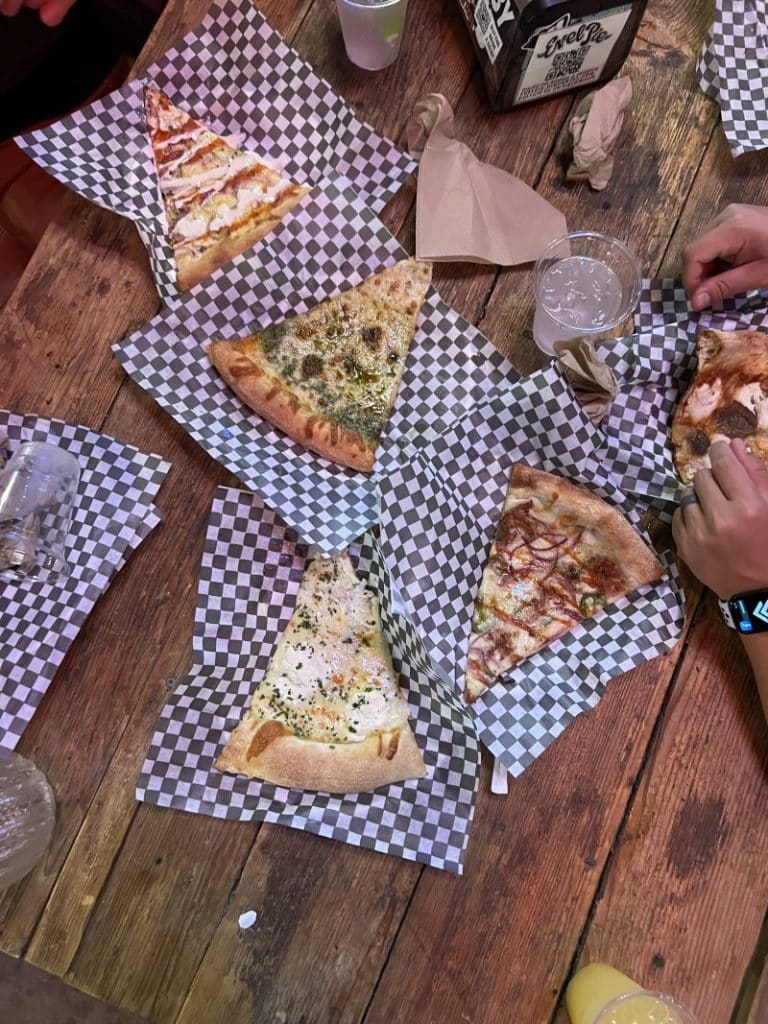 Friday night in Las Vegas… THAT is a state of mind. It was the last day of a Leadership Conference that Jeremy, Tony, and I attended with our friends and clients within Zerorez. We had a couple of fantastic and long days together learning, brainstorming, catching up, and working. Even though we were all at the conference together there wasn't much time for us to connect and by the end of the week I was eager to catch up with Baird and to have a few drinks!
Initially, our only plan was drinks and pizza. Hellloooo we have to get that Slice N' Sip content! The other details didn't really matter so we caught a Lyft and headed in. The first stop was a hidden tequila and mezcal lounge called Ghost Donkey. It took us a little bit of exploring and almost a detour at Hattie B's Hot Chicken, but after poking around and being patient we found it. The inside barely seated 20 people and we were lucky enough to snag the last two spots at the bar. The evening officially began with a Lavendar Vida Loca: mezcal, grapefruit & rose vodka, St. Germain, lavender, and fresh lime. Oh and we paired that with wild mushroom nachos. It was at that point, we knew it was going to be a good night.
After Ghost Donkey, we found our way over to Vanderpump Cocktail Garden which felt like we were in a secret garden! Chandeliers, gold-foiled cocktail napkins, and neon signs. I am so here for bars that stick to a good theme. After a cocktail or two… I may or may not remember how many it was time to make our next move. Pizza.
Tony took the wheel and said follow me! We weaved in and out of a few casinos to find the Lyft pick up zones – if you know you know. They are always hidden and at least a good half mile from any main entrance. It was on our way to one that we found… A PIZZA VENDING MACHINE! YES. A PIZZA. VENDING. MACHINE. Without hesitation, we had cash out and were trying to decide if wanted a hot or cold slice. We opted for the cold and within 30 seconds out spit a box with a slice of cheese pizza. And you know what? It actually slapped! So the next time you find yourself in front of a pizza vending machine, give it a go. YOLO or as Tony says, memento mori.
We slide into the backseat of our Lyft and Tony declares we are going to Fremont! I hadn't been in ages and was excited to check it out! Fremont was a TRIP but what really blew my skirt up was Fremont EAST. Y'all. It was such a fun district packed full of great bars and our final pizza destination. Evel Pie.
As we were walking there the rest of our crew texts and asked if we wanted to meet for food. We told them to head to Evel. Tequila cocktails in hands, because Vegas, we show up to a picnic table out front full of our friends and a variety of slices.
I walk inside and above the register in big old school marquee lettering reads; Live Fast. Ride Hard. Eat Pizza. I immediately knew we were in our element. Stickers lined the counters and walls, music was blaring and the smell of fresh pie filled the air. As they have listed on their website EVEL KNIEVEL'S attempt to jump the Caesars Palace fountains remains the single biggest spectacle ever to occur in Las Vegas, and EVEL PIE, Las Vegas' most celebrated pizzeria, serves Evel the slice he's earned of this town's history. Created by Branden Powers and operated in partnership with Evel Knievel's estate and son, Kelly, Evel Pie features the world's most extensive collection of the icon's memorabilia outside the Evel Knievel Museum in Topeka, Kansas, including motorcycles, statues, and an Evel Knievel Pinball Machine. An old-school pizzeria, Evel Pie has it's own '70s American iconography that dovetails perfectly. No fancy lentil-crusted, tofu-topped asparagus pies here. Like in Evel's day, just cheese and pepperoni New York slices (among others) faster than you can jump a canyon.
It was SUCH A RAD PIE BAR and their slice selection was next level. There were 12 pies to choose from when we were there and picking slices was the hardest thing I had to do that night. I opted for cheese (duh), Barry White, Gang Green, Chicken Ranch, and a Mystery Slice! I am a sucker for anything mysterious. It was, as they declared, true New York slices and we were in pie heaven. We passed slices around trying a bite of this and a bite of that. It was such a great way to end the week. Plus sharing food with friends is one of the best experiences in life and to get to have us together unplanned eating pizza at 10pm on a Friday night in Vegas was perfect. The rest of the night we're keeping for ourselves because some things are just meant to stay in Vegas.
Cheers! – AW