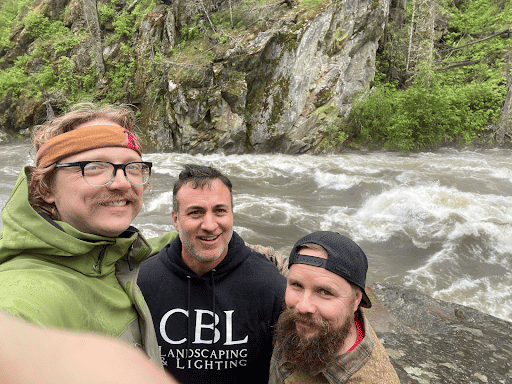 Travel has a special place in my heart. I'm not sure if it's the change of pace, the change of altitude, or just locking myself away from the connected world for a bit. Regardless, getting away is good for something, and coming back is just as beautiful.
Earlier in June I had another opportunity for travel, for getting away, for getting remote. Unlike some of our other entries here, this trip took us about as far away from proper coffee and pizza as I'd like to be. Deep into the bowels of the Nez Perce – Clearwater National Forest. For the unfamiliar, head south from Spokane and hang a left at Lewiston.
This beautiful part of the country is home to the Lochse, one of the original rivers protected by the Wild and Scenic Rivers Act of 1968. 'Remarkably scenic' was one of the classifications from that act, and to describe it that way truly is an understatement. The beautiful trees, high slopes, the meandering back and forth nature of its shape, and the sheer remote wilderness of it all…it's not just remarkable, it's f——— beautiful.
It's not just scenic though, the congressional act actually called out rivers for their recreational value too. Piled with Class III, IV and a couple Class V rapids, the river just never stops. Depending on water levels, you might do anywhere from 12-30 miles, and the wave trains just never stop!
All this to say, when you're looking for a spot to take your next nature bath, don't sleep on this one.
And after all those rafting highs, how can you possibly top it? Pizza, baby.
For this trip we got bougie and brought the Ooni style gas pizza oven all the way out to the middle of nowhere. Armed with some premade dough from one of my favorite URM-supplied grocers (shameless client plug), a bag of flour for rolling, and a pile of assorted toppings, we were set.
Did I mention it rained all weekend? No? Oh…well it freakin poured! So all of this beautiful pizza action takes place cramped up under a leaky 10×10 tent—but we shall not be deterred.
Thankfully we brought some parchment paper, as to not hand roll the dough on the dirty camp table. (That may have added some nice flavor 😂) Flour the table, plop the dough… hmm, didn't bring a rolling pin. A beer bottle will work just fine. A squirt of sauce. Mozzarella. Mushrooms and green olives. (Try it, black olives are way over rated.)
And the oven, if you haven't tried one of these things yet, is amazing. The thing gets up to like 900 degrees and can cook these puppies in 90 seconds.
So we start lining them up. Roll, top, cook. 6 pizzas in and back out in 20 minutes.
Now there's always something special about camp food. It brings out the best in even the worst. I'm talking fried spam and hobo pies. But to take pizza, something I'd love on any day of the week, and enjoy it hot and fresh it the middle of the woods, that is something special.
The pizza itself, 10/10.
The camaraderie with old friends and new friends, 10/10.
The absolute absurdness of traveling deep into the woods with a pizza oven, 10/10.
Back here. I'm dry and warm, reminiscing on the trip. It's a beautiful thing to be away. To get out into nature. We spend so much time focused, working, determined. To break away, leave the phone aside and take that time. It's always worth it. And to come home, back to it all, the family, and the daily routines, it reminds you how good you have it.
Revel in, my friends.
Ps…I really did leave my phone aside pretty much all weekend. I am a bit ashamed I didn't get a photo of the pies, but the one photo I took did a pretty good job summing it all up.