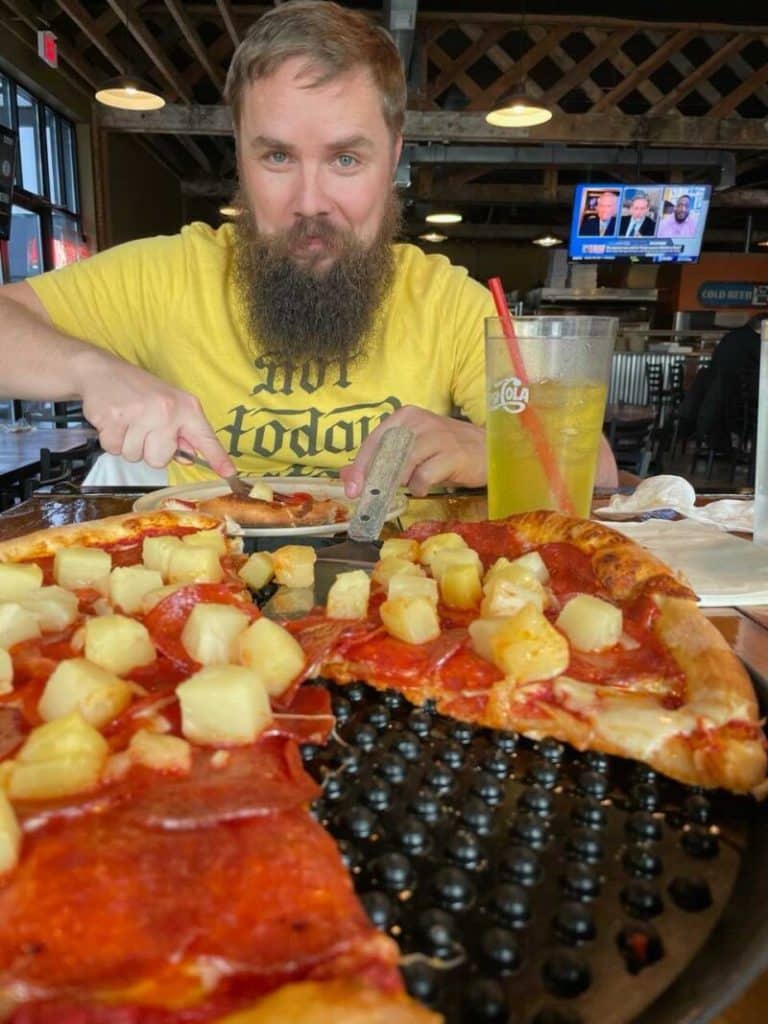 It's cold and snowy out and my truck is sliding to and fro. It's ok though–most of the sliding is on purpose. Last fall, I went down to Austin for an F1 race (hopefully you've enjoyed that Slice and Sip report already) and ever since then, I've become fast friends with F1 racing, finishing out the season, watching old races, even binging that Netflix show (Formula 1: Drive to Survive – 10/10 recommend).
It's really great too, when August (my 8 year old) says "Geez Dad, I wish I never took you to the F1 race, all you do is watch F1 now." He's a dramatic kid–I don't ALWAYS watch it–but I love that he thinks he took ME to the race… I guess I should figure out where he's taking me next. But I digress.
It's bad enough watching that show and then getting out on the dry pavement, racing around. But today it's slick. Trouble is likely to ensue.
Fortunately, I've got my motorcycle helmet in the backseat and Jeremy brought his too. We've got plans to hit the racetrack, or the dirt track anyways; we're heading to DirtKart. I've never been, but I've got dreams of glory. Flying through the straights, apexing the corners just perfect and flinging mud all over Jeremy, cause obviously he's behind me in this driving fantasy.
When we walk through the doors from the lobby to the track area, we're greeted with a giant banner above the track. "Drive Fast, Turn Left." Awesome. Here in town, the dirt course is just an oval track. Seems like kind of a let down at first, but they made it right.
First off, it's bumpy as hell and you really gotta work that brake just right to get that one left turn down really well. And for a beginner, it was kind of nice to only have to worry about the one move. So that was good. But after the first race, the attendant grabs the hose and starts to douse the track. I dunno why, I assume it's just part of the maintenance.
While we wait, we're talking about F1 a bit, talking about the track and how hard it was to be really good at the turns. The attendant comes back up and says, "Oh you guys like F1? We'll this is F-D Racing… Formula Drift." Oh snap! He didn't wet it for maintenance, he wet the track down to give us a whole different experience. (Well played, sir.)
Round two was way different. You could really get a serious drift going around the corner, if you knew what you were doing. I'm pretty sure Jeremy spun out at least 4 times. With all his shenanigans, it wasn't a matter of IF I'd lap him…but how many times I would.
Well…I wasn't that great. And when it was all done, both of us tired and feeling like we crushed it, I asked the attendant "How many times would you have lapped us if you were in there?" and he just smiled. He looked at the time chart…says that he usually runs about 2 seconds faster than what we were doing. Some quick math: 25 laps, 13 seconds/lap, he's 2 seconds better…I'm pretty sure he would have lapped us at least 5 times in just the one race. Well…I guess we got some practicing to do.
Good work though, and now I'm hungry, so we're off to the nearest local pizza joint: Bennidito's. We visit their second location, a brewpub/pizza combo in the recently redeveloped East Sprague District. It's early still, so the place is pretty empty when we arrive, but filled in quite well by the time we took off.
Pizzas, hot sandwiches, cold sandwiches…so much to choose from…but who am I kidding, it's gonna be pizza. We've got an old buddy who just loves his pepperoni and pineapple, but we one up it and order the Double Pepperoni, add pineapple. Thus "The Chad" becomes "The Double Chad" (love you buddy—sorry you couldn't be there.)
Huge slices of pepperoni layered on top of each other, and the pineapple was in such big chunks. Frankly, it surprised me. Did they cut this fresh off the pineapple themselves? Who even cans pineapple chunks this big? The chunk size alone was a delight and worth this whole write up. And again I get distracted…
The pizza was great. Bennidito's is a Spokane staple and for a good reason. Add it to your pizza tour and you won't be disappointed. And if you happen to get some racing on the front side of that pie, even better. (Maybe not on the back side though, that track is really bumpy and I wouldn't recommend that race on a full belly).
'Till next time. And remember, rubbing is racing. And pepperoni's are delicious.
– Tony