As a creative, it's crucial for me to change my scenery and work in different spaces. I need new views, new distractions, and new sounds and smells on a weekly basis. Thankfully our office is nestled in downtown Spokane and within walking distance to a handful of "offices." After last year, if the space has WiFi… it counts as an office.
I had caught a cold and after a week of being locked inside my apartment, I was dying to meet with my partner in crime, TB, in person. I called a meeting and I called it offsite. Tony met me in the alley and asked "what's the occasion?!" I laughed and said I just need to get out and get a change of scenery. That and our schedules hardly allow us to grab lunch together so when the opportunity presents itself… ya take it.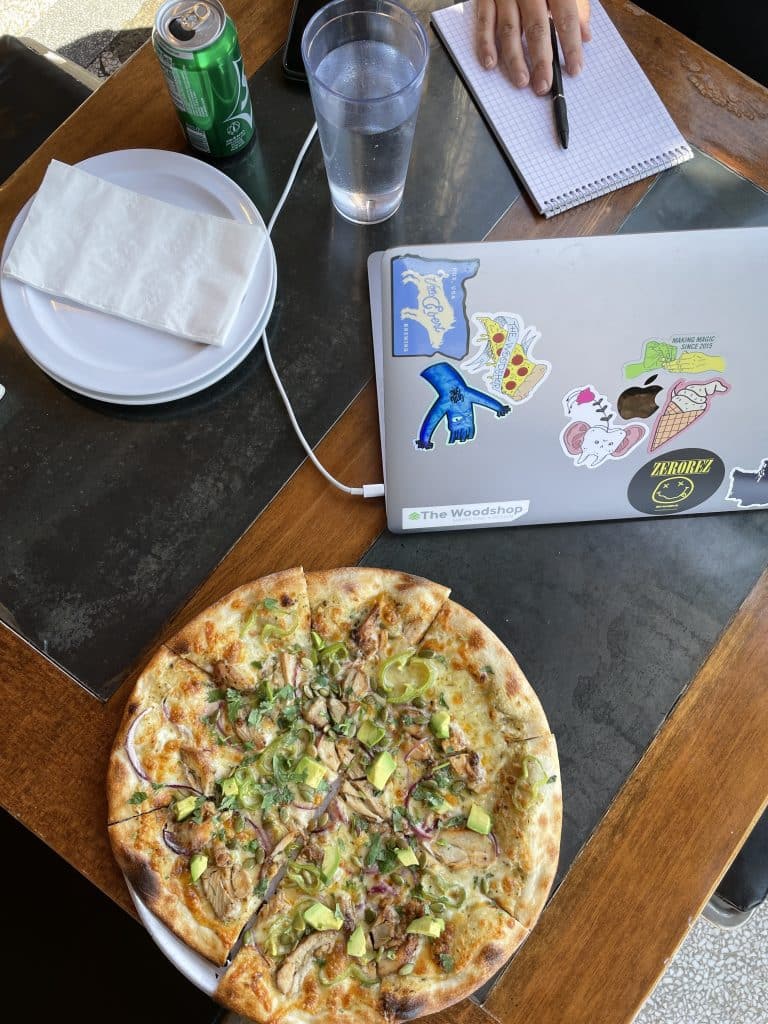 Sticker-covered MacBooks in hand, we walked down Railroad Alley three blocks and took a left on Adams to arrive at Iron Goat. Fun fact, I had my second interview with Tony at Iron Goat. Iron Goat checks off all the boxes for us at TWS. Killer scratch-made dough pizza, it's a quick walk away, big tables for working, a patio, and of course cold beer for late afternoon meetings.

However, what I really adore about Iron Goat is that they have a bunch of CREATIVES in the kitchen! Their team is constantly playing with ingredients and flavors to release weekly specials and keep it fresh. Whether it's ingredients for a German dish or a Vietnamese sandwich, they'll turn it into a pizza that will leave you drooling for more.

Lucky us, neither TB nor I had tried the Santa Fe Chicken Pizza! Tomatillo sauce, Tillamook pepper jack, chipotle chicken breast, anaheim peppers, red onion, avocado, cilantro, and pepitas. This is far from the traditional pepperoni pizza or Tony's go-to (green peppers, pineapple, and chicken… don't knock it until you try it!). The little crunch from the pepitas paired with the smoothness of the avocado was what really sent this pizza home. As much as I would have loved to try it cold the next day for lunch… this pizza was so good there wasn't even a discussion around who was going to eat the last slice.

There was a discussion around eating the bones. Do you eat the bones… also known as pizza crust? Tony was a HARD yes. I was a maybe. Next pizza debate… to eat the crust or to not? I have a feeling I may be the odd one out here.
You can find Iron Goat on the socials here and you can check out their current 'zza lineup here.
CHEERS! – AW