Rolling across the tarmac after a bumpy landing at Denver International Airport, I looked over at Jeremy to remind him that we've got official business here in town: find some pizza. Among other things, of course. You didn't think we flew to Denver just for a pizza did you?!
Needless to say, the pizza was still an important part of this trip. As we got off the plane, I pulled out my phone to ask Siri "Hey, what's the best pizza place near our hotel?" After some thought, she presented us with a couple options and "Nicolo's Chicago Style Pizza" was one of them. It was highly reviewed (how are yours by the way?!) with a pretty well-populated profile on Google. I mean, if I'm gonna eat somewhere, I wanna see what's up.
When we first rolled up, there was really nothing special about it. It was part of a strip mall on a busy corner in a nice suburban area. In fact, it was just your basic pizza joint that had been locally owned since '94. According to them, it was the oldest pizza place in Highlands Ranch (which—yikes!—makes me feel old).
Anyway, the service was great and everyone was super friendly. I'm pretty sure the back kitchen consisted of all high school students and one college kid who was legally allowed to pour the beers.
As we took our seats, it was time to get down to business. Seeing a photo of the goods, my first thought while browsing the menu was "who in the hell orders a pizza with no cheese and no toppings!?" What's the point? But Jeremy was quick to point out – no man that's a deep dish with an EXTRA layer of sauce on top of the whole thing. Woah.. now I'm intrigued!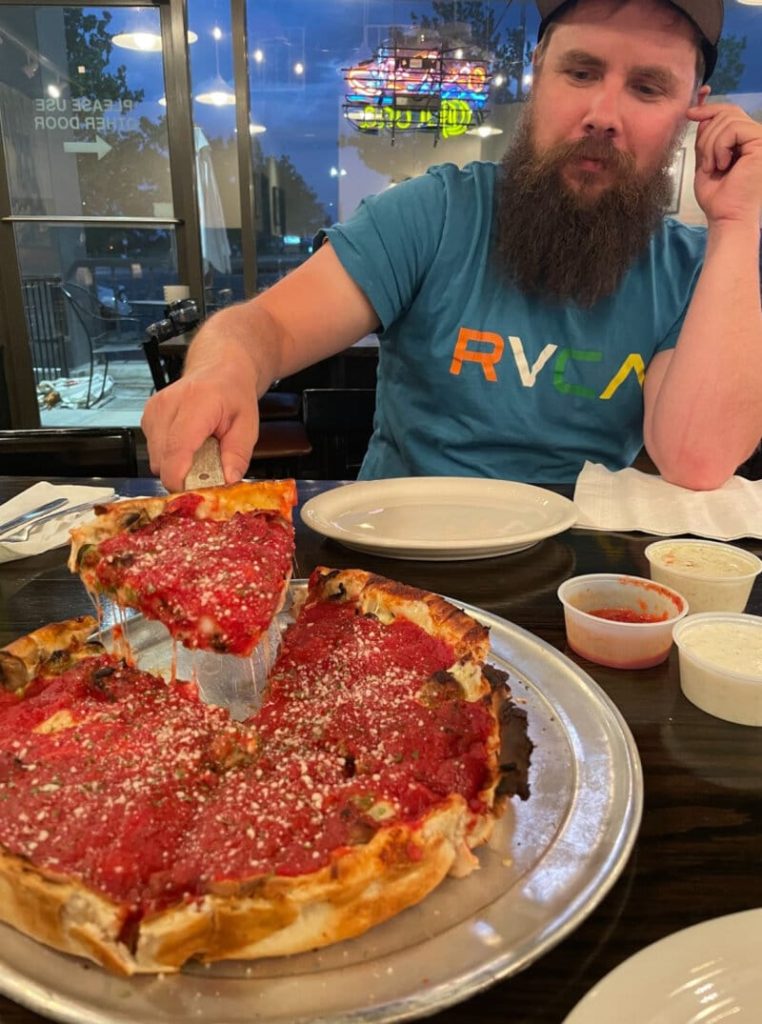 I agreed to give it a try and then came the time to decide what toppings we wanted buried under that beautiful layer of sauce. As I'm looking, I see the "EBA" or the "anything but anchovies" deep dish. It's right on top and calling my name.
Because I think I'm hilarious, I ask the waitress, 'can we get the EBA, and can you add anchovies'? As I'm waiting for a small chuckle, the waitress lets us know that a lot of people in fact order the "EBA" with anchovies… umm what? Scratch that! I'm just playing around.
As we wait for our pizza, we decide to order an appetizer too (good choice). Because the deep dish has to run through the oven twice, it takes about a half hour to make. We went with the beer-battered mozzarella sticks. They're longer and thinner than most, but delicious. Like tasty, edible, chewy cheese pencils.
The marinara was equally delicious too, but I'd recommend asking for a ranch. You get your choice of either regular or jalapeno! I mean at this point, I'm considering flipping this review on its head and simply talking about the ranch, but I'll save that for another day and just leave you with this: get the ranch.
Now back to the pizza, am I right? Just as advertised, I'm staring at what looks like the world's lamest pizza. Except a keen eye sees a sausage ball poking up on one side and a glimpse of cheese sneaking through another.
Side note: You know that thing where the pizza looks so good, but you know it's so hot? And then you proceed to take a bite anyway and the roof of your mouth screams at you? Your regret isn't just momentary either. That burn on the roof of your mouth lasts for days! You know that right?!
Back to the story: Not here, not this pizza though. We dug straight in and the temp was perfect. Not that it made the pizza better – it just made me realize that we sidestepped trauma thanks to its primo Fahrenheit status. To the crew at Nicolo's: thank you for that.
Unlike most deep dishes I'm used to, it wasn't greasy either. The crust itself was more akin to a hand tossed style that was just bowled out so they could pile in all the toppings and sauce. It was really crunchy around the edges and even the bottom, too. None of that squishy oil filled sponge crust, which was a quite pleasant surprise.
Not to mention the toppings were on point too. I wonder if they cooked it once, then added toppings for the second bake? The green peppers and onions were obviously fresh and still had a crunch to them. Plus, the mozzarella chewed and stretched like the fresh stuff is supposed to.
Best of all, it wasn't soggy. It wasn't wet. It really turned out like a traditional pie should. Just way thicker and piled with sauces and cheeses. Seriously—they nailed it with this one!
I'm not typically one for a deep dish, but I am one for novelty. And I'll admit that it was the sauce on top that caught my eye. But this pizza was legit. Nicolo was legit. Even if you're just passing through the area, it's worth a detour to scoop up one of their pies!
Don't forget to check out their website and Facebook. If our pizza reviews inspire you to try a slice for yourself, don't forget to tag us in your story or post too! Use #BetweenCoffeeAndPizza and #SliceNSip (trust us, these pizzas are worth documenting).
CHEERS!