It had been a minute since we'd written a Slice 'N Sip in our own backyard and my list of "to try" pizza spots in Spokane has been growing! Thus episode 21 brings us to Zeeks Pizza!
My friend Terry at Dry Fly sent over an email saying that they were doing a collaboration whiskey with Zeeks Pizza. Of course, I am already excited because it's Dry Fly but then to add in a pizza joint, GOALS… two of my favorite things in one project! Step one was figuring out who Zeeks Pizza is?! 
Their Instagram bio summed up Zeeks perfectly; "Northwest Beer & Pizza." Founded in Seattle in 1993, currently, with locations all over the west side of the state, Spokane is lucky enough to be the first Zeeks Pizza east of Mt. Rainier over in the Zag District (1414 North Hamilton Street to be exact). Their tagline? Fuel Your Stoke. As outdoor enthusiasts ourselves, we jive with that mentality.
No fancy frills here, Zeeks is a classic pizza joint. Killer pizza, cold beers, and great service. I snagged Baird and McGee to chow down on pizza with me which was a treat in itself because our three calendars aligning is a once-in-a-quarter event! We quickly all gravitated towards the Adventurous Base section of the menu! Legion of Shroom, Thai One On, Buffalo Soldier, Texas Leaguer… HOW the HECK do you CHOOSE?! Our tastebuds were excited for pizza and even more excited for creative toppings! We split the Legion of Shroom and Buffalo Soldier down the middle. 
Caramelized onion, italian sausage, asiago, goat cheese, garlic, and a ton of shiitake, button, and portobello mushrooms. 
Ranch base, buffalo chicken, Mama Lil's peppers, jalapeno, gorgonzola, and cilantro.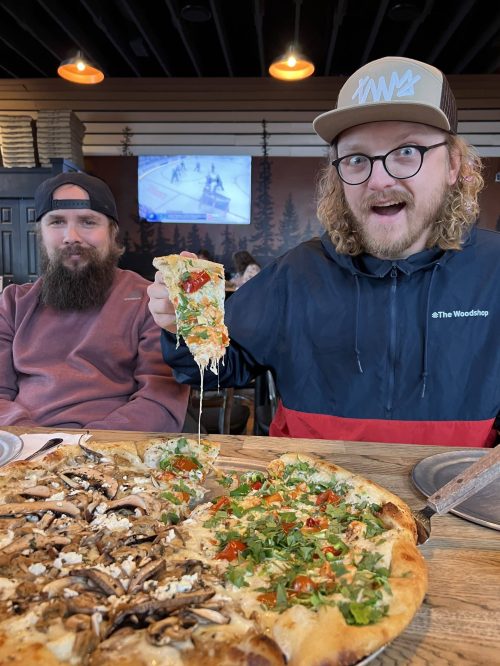 My mouth is watering just typing the ingredients out. First of all round of applause for these flavor combinations but what made the pizza really stand out was the crust! It was soft enough that you could fold a slice without a bunch of crumbs and the crust cracking while still having a delightful chew supporting the weight of the ingredients and a few air bubbles on the lucky slices. It was DAMN GOOD PIZZA. We each crushed three slices and still had two left over to bring back to the office. Which didn't even make it five minutes without being enjoyed by the team! 
I am eager to get back to Zeeks so I can dive into the beer selection but to also check out their Olive Oil Base pizzas which sound fantastic! It's also so uncommon to have a non-marinara pizza option and I support this! I already have the next pizza picked out! The Forager: prosciutto, portobello mushroom, fresh arugula, mama lil's peppers, and provolone. 
Whether you've been to Zeeks or not, you've got to head back and not only have a slice or two but check out the Dry Fly Specialty Barrel #1378! Erin added such a fun illustration to the label!
Cheers to fueling your stoke with killer pizza!  Follow Zeeks on Instagram here and check out their menu here.