Bang Ban Pizza Train!
Bang Bang
verb
The action of eating two meals back-to-back at different restaurants.
Myself, Tony, Genevieve, and Erin spent a few days this month down in Washougal, Washington for an upcoming project that we are more than thrilled about! If you haven't been to Washougal, add it to your summer trip list. Tucked in along the Columbia River just twenty minutes outside of Portland, this charming town offers multiple access points to the outdoors and a calmness that is perfect for slowing down and recharging. Plus, the drive down (take Highway 14!) was so scenic…I think we stopped to admire the view at least a dozen times over our stay. Make sure to stop into Washougal Coffee Company when you're in town; they are brewing Stumptown and serving up on-point cortados.
Sunday night, we ended up crossing the river to meet our friends Matt, Jess, and Carly for dinner at Kachka. Kachka is an experience. One of my absolute favorite restaurants in Portland—I try and go every time I am in town—Kachka is trendy and bursting with personality and color, yet offers a sense of comfort as if you're dining in your babushka's kitchen. Horseradish vodka, caviar, smoked fish, meat jelly, hard-boiled eggs, bread & butter, rabbit, pelmeni…adventurous eaters, your taste buds are in for a feast full of textures and powerful flavors. We did the Zakuski Experience, where the table is literally full of trays with different plates. They just kept coming…each one sparking questions as eager hands passed plates around to admire and sample our dinner. There really is something special about gathering around a long table and sharing plates of food together, experiencing and savoring each bite mixed with laughter and conversation. It's magic.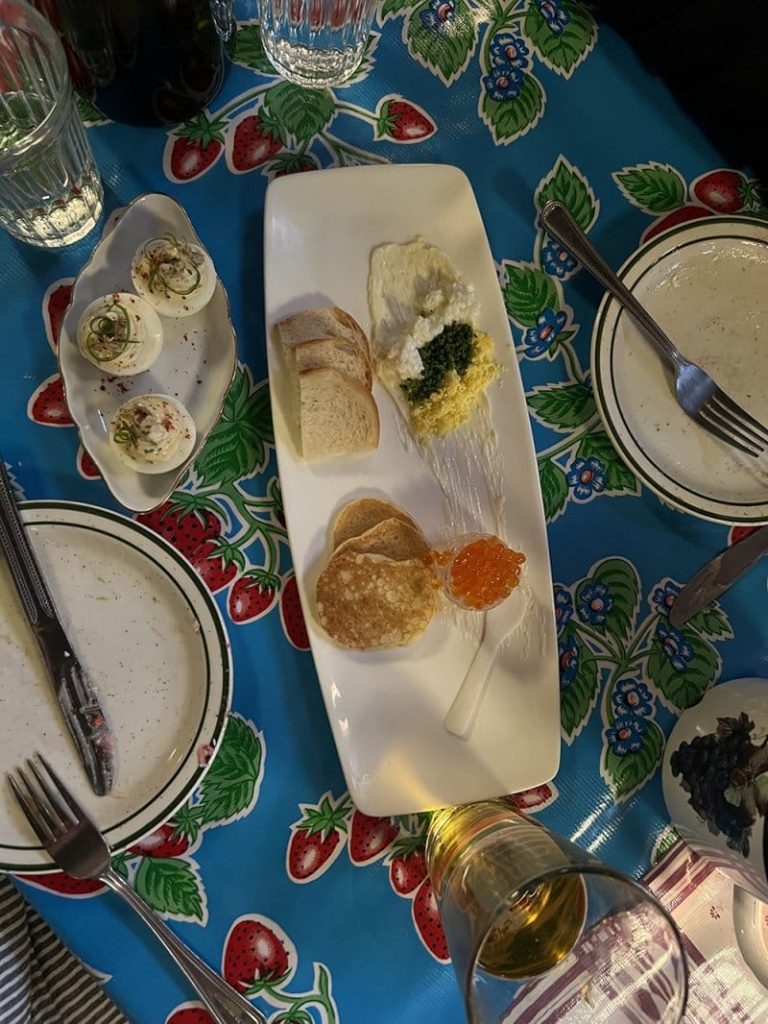 After a flight or two of vodka at Kachka, Matt asked us if we wanted to do a 'Bang Bang.' "A what?!" the group responded. "A Bang Bang! You know, dinner after dinner!" he said with a grin. As a whole, we all smiled back with an "of course!"
Matt knows of our love of pizza, so the evening quickly turned into a Bang Bang Pizza Train! A hunt for a slice. Mind you, it was late on a Sunday evening, Mother's Day at that, and our options were slim. Where did we land? Pizza Slut. LOL. A walk-up window with piping hot pie in downtown Portland. Let's just say by this point…there may have been a cocktail or two involved and while the pizza served its Bang Bang purpose, we knew we needed to find another pizza joint before we headed home.
The following night, we met my best friend Laura for a sit-down pizza experience at Baby Doll Pizza. Authentic, New York-style pizza featuring dough, house-made sauces, and a variety of locally-sourced ingredients. We couldn't make up our mind on just ONE pizza, so thankfully we were able to split two of their specialty pies. The #4 and the #7.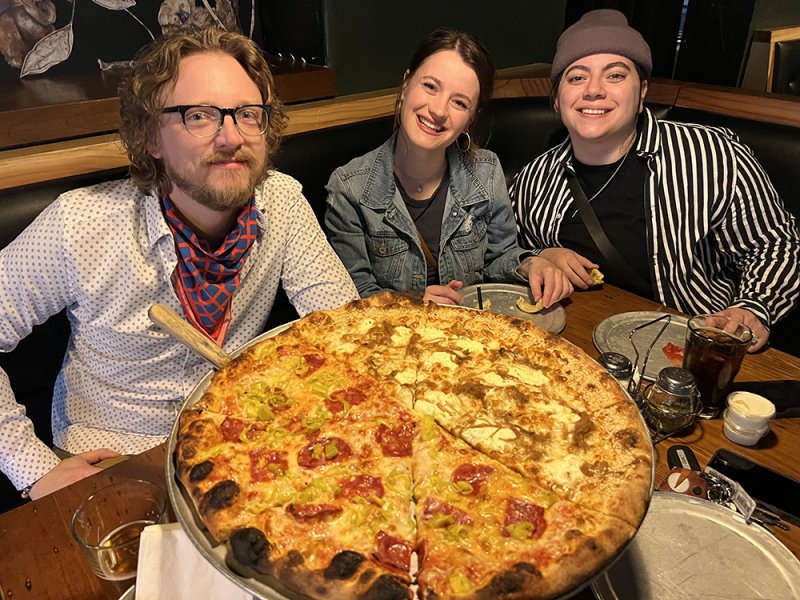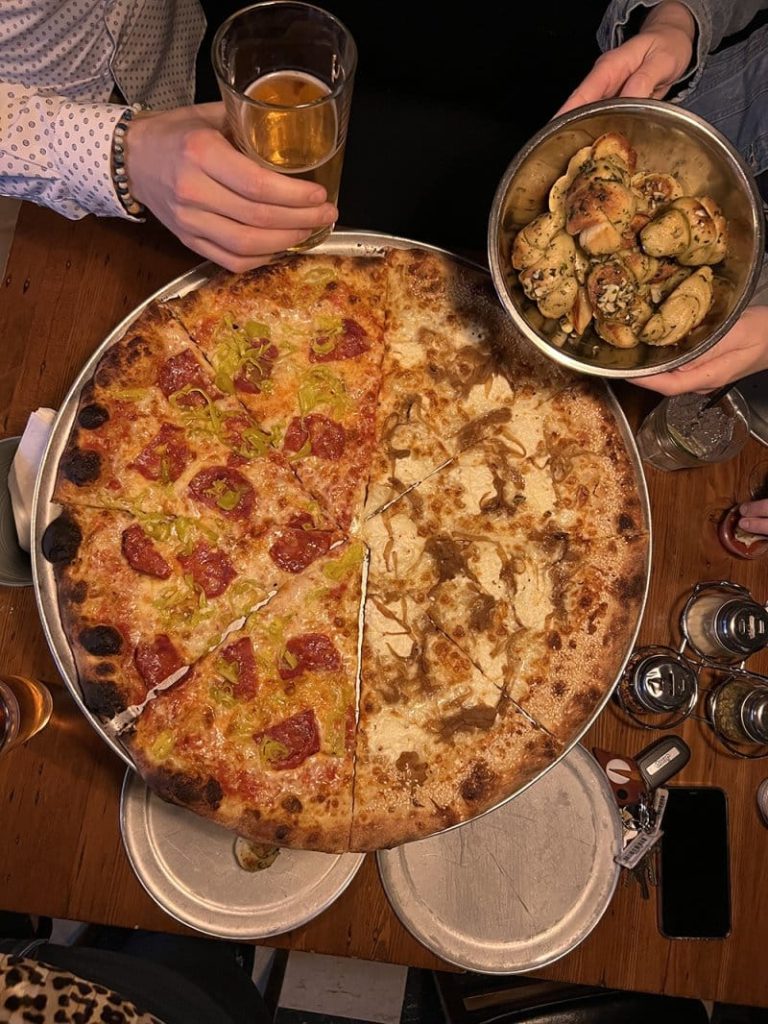 #4 Had Hot Soppressata, Pepper Jack, Pepperoncini, and Mozzarella. #7 Had an Olive Oil Base, Mozzarella, House Ricotta, Parm, Caramelized Onion, Garlic, and a Sesame Seed Crust. I am a sucker for Ricotta but what I loved most about the pizza was the "sauceless dough" paired with sesame seed crust. It wasn't dry like you would imagine but it was a smooth and unique pizza combo. They held up to their authentic NY 'zza claim with the crust. And their garlic knots were blissful, especially soaked in a little ranch. All and all we left with a satisfied pizza tooth. Yeah, that's a new term…sweet tooth? Nah. We have a pizza tooth.
We did end up finding ONE more pizza joint before heading back to Spokane and that was in Camas, Washington. Ironically enough, it was also a Bang Bang! Tony and I grabbed a quick slice from Camas Slices. We immediately gravitated towards their walls covered with stickers and added a few of our own to the collection. I was excited to see the cornmeal dusting on the bottom of our slices, because you know when you see cornmeal you're in for a crunchy crust with an acceptable amount of grease. Tony had the BBQ chicken, which had a garlicy bite, and I went for the OG cheese. It was a classic slice before chowing down on tacos at Little Conejo in Vancouver. More on that another time.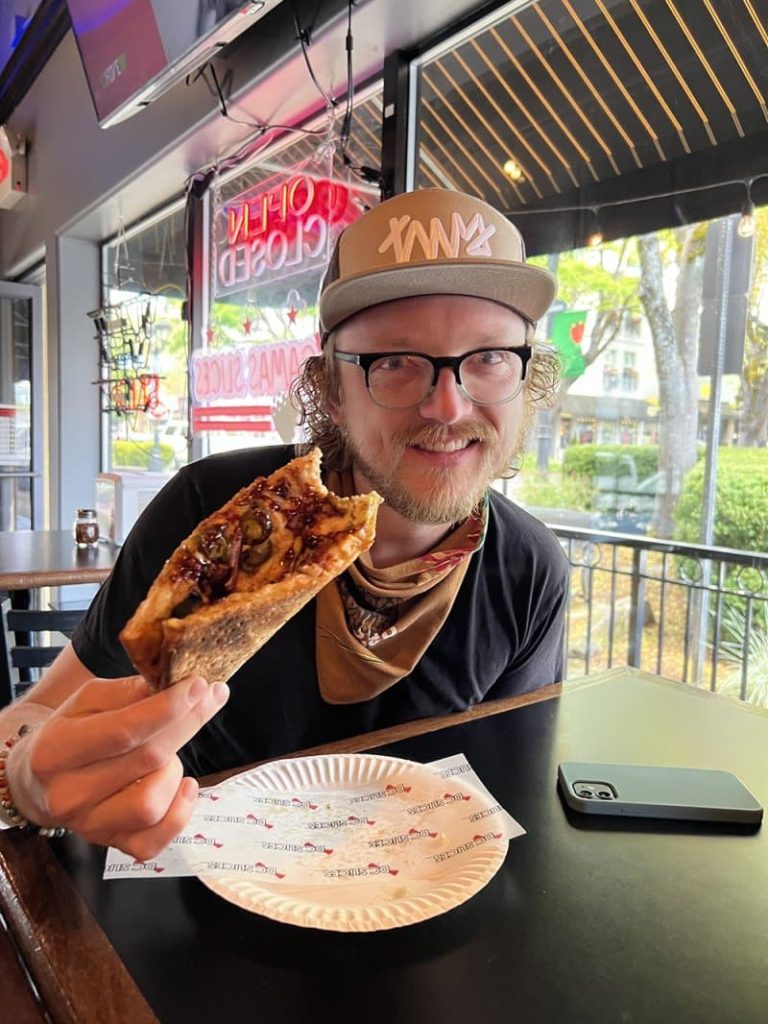 Our pizza hit list is still pretty long for Portland: Ranch Pizza, Sizzle Pie, Pop Pizza, Kens. Have a favorite Portland Pie shop? Let us know! We'd love to check it out.
I'll leave you with this one final recommendation and thought. Make sure to add a Bang Bang to your calendar. Give yourself time. Drink water. Wear comfortable clothes. Make a night of out it. Thanks, Matt and Carly for the Bang Bang adventure!
Cheers! – AW
Your Attractive Heading