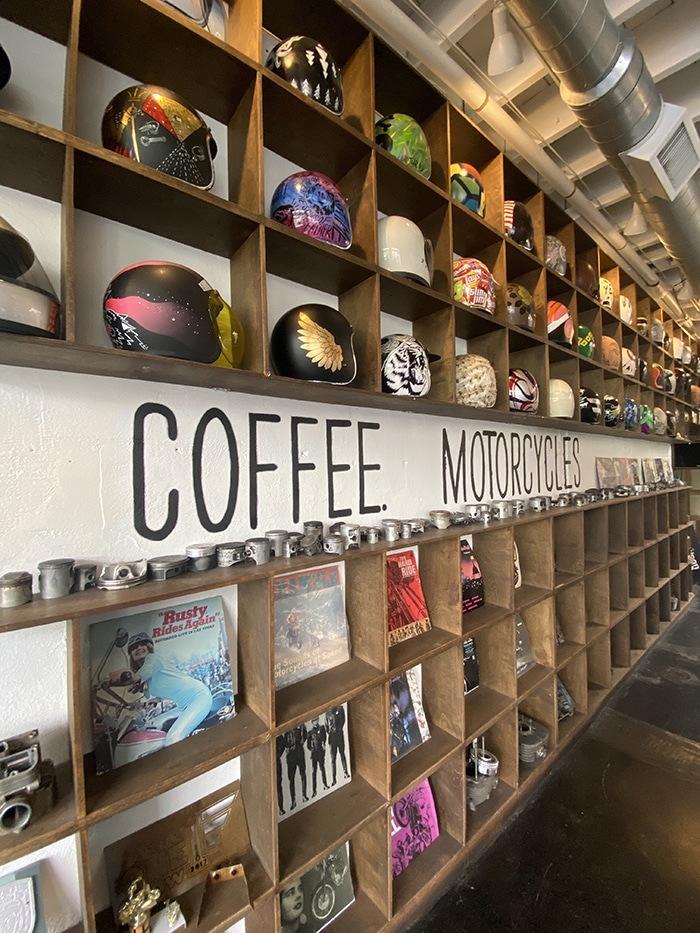 There's no such thing as ONE Must-Stop Coffee Shop in PDX.
Outside of the term "foodie" being a little cringe… Portland is an absolute FOODIE PARADISE. I bet you could eat out at least twice a day, every day, for six months and never have to go to the same place and your taste buds would be buzzing with delight. Complimenting their vast food scene… is an equally delicious coffee one.
Portland is quickly becoming my "second city"—don't get upset, Spokane, four of my favorite humans and friends live there (hiiii Laura, Baylie, Sebastian, and Matt)—and any chance I can get down to see them, I am jumping at the opportunity. And the FIRST thing we do when I get to town (sometimes even weeks before) is lay out the plan for eats and drinks. Which favorite spots are we hitting and who is new to the list. It's filled with recommendations from locals, TikTok, Instagram, and blogs. I haven't even begun to make a dent in my list of restaurants but I have made a dent in my list of coffee shops!
I was in town for a week in March and some of those days weren't vacation days. Was I going to stay at my best friend's place and work? Hell no. I had laid out nearby coffee shops because a) I cannot function without at least two cups of coffee a day and b) I am all about that environment!
The last time I was in town, I made a stop by Never Coffee and I was excited to make it back again. It seems to be a locals' favorite but more of an "if you know you know" vibe. It's the most minimal interior blanketed with white paint, concrete, plants, and milk crates. What's charming about the space is their branding and the art. The white walls have rotating art on display (SWOON) and with multiple locations, you are bound to find a seat to sip on your coffee and soak it in. But as a design and marketing junkie, their branding is UTTERLY DELICIOUS. See for yourself here: five colors, each coffee blend has its own color for its packaging, and you'll find that same color in their logo and their merch. Their brand and packaging adds colorful confetti to their minimal white spaces. It's an influencer's paradise. I haven't tried all of the Never blends, but I have tried a few of their lattes (which rotate), and every time I leave with an ear-to-ear grin across my face. It tastes wonderful and I feel cool AF.
Sure, Never Coffee has great branding but it's not my favorite coffee shop on the tour. Let me introduce you to See See Motor Coffee Co. One half biker shop, one half coffee shop. It's full of personality, it's a little edgy, and they provide fuel for everyone! I was greeted by the most friendly chicks at their Portland location who answered all of my questions about the space and the coffee and I instantly felt welcomed. The interior was THE TITS. One wall had a giant snake mural and the other was shelving that displayed at least 50 different motorcycle helmets. You could spend well over an hour in there staring at them all. Plus, their Scrambler Blend (chocolate fudge, date, caramel) had a bold, saucy flavor that hit the spot. Every time I went (which I think ended up being 4 times), I ordered an iced vanilla oat milk latte. That's my go-to order and it was consistently perfect with each sip. If I lived in Portland, this would be my coffee shop. They also had these ridiculous lemon poppyseed bars with a berry frosting. It was dense like pound cake but had the texture of a butter cookie…they were so good, I had two. They happen to have additional locations and a SEE SEE COFFEE SLAYER which is a motorcycle coffee bar (see for yourself). Learn more about See See's here. 10/10 Recommend and if you're extra rad, you better ride your motorcycle there.
Last but not least, I finally checked out PUSH X PULL Coffee! I snagged this from their website:
PUSH X PULL is not a coffee shop. It's also not a coffee roasting company. PUSH X PULL is a feel good, do good place for people to eat, drink, and be. This is where you participate in life and relationships to create and to be known. We think that drinking delicious coffee along the way makes life a lot more fun.
HELLO!!! YES!!! PLEASE!!! Delicious coffee absolutely makes life more fun and when I stopped in I 100% was living life and feeling good after a workout and soak from Knot Springs. Their casual no-frills spot provided a place for my bestie and me to sit down, take a breather, and snag a caffeinated post-sweat reward. Outside of their vision, their coffee impressed me. I had The Suzy. A latte with raw honey, Ceylon cinnamon, and Himalayan pink salt. Sweet and salty, my go-to and a dream, this latte was unlike any other. I seriously tried adding salt and honey to a latte when I got home but unfortunately, the magic wasn't there. All this to say, Push X Pull, next time I am in town I am coming back and probably multiple times. Our first date was great and I can't wait to hang again soon.
I still have a list of shops to visit next but I am always looking for more! Have a favorite? I would LOVE to know! Send me your rec at Andrea@thewoodshopnw.com.
Portland, thank you for always surprising and delighting my tastebuds. Cheers! – AW